I actually posted an entry other than videos so I thought I would sit down a do so. I went a while there only doing crafts for swapping in groups that I belonged to and it got a wee bit overwhelming so I have decided to do a little less swapping and a little more crafting for fun (and for my shop that I have been neglecting like crazy!)
Today I created a group on yahoo for crafting called Creative-Crafts.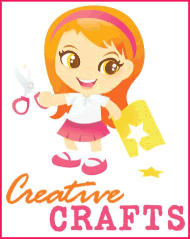 I want this group to be a nice chatty, successful group of crafty friends. I had a ning site that I was really excited about but its A LOT of work and cost money that at the moment I do not have. Sadly that site is closing.
We have also decided that by the end of September/beginning of October we are relocating back to my home town (Concord). I want to be closer to our family and friends. Country life is great, but there are a lot of negatives to living this far away from family and friends, as well as not being able to get out and do things, or even work. We live about 30 minutes from even a grocery store, and if you don't coal mine, well the job selection is slim to none (unless you want to travel at least an hour one way.) It will be good for us to be close to everyone, for us to be able to get out more, and especially for me to find a job. Its been 4 years since I actually worked somewhere outside of the home! Not cool.
Our cat Stormy had 3 adorable kittens a few days ago! I'm not sure their sex yet but they are healthy and Stormy is an excellent mother! I need to get some really good pictures to share :)
Tomorrow PeeWee and Zoey will be going to their new forever home! TOGETHER TOO! We are super excited about that because those two are really close, they've grown up together. I hate to see them go but I know they will be loved and thats all that matters to me!
I've been crocheting and working on my junk journal a lot lately. I've done a few entries but I want to finish up a couple of entries I have been working on before I take photos or make a vid about it. I'm really enjoying it though. I finished a crochet purse on Thursday that I still need to take photos of as well. I will be posting those soon too!
Other than that, not much has been going on. Its the same old stuff, just a different day! Oh and our garden is doing fantastic! I'll share some pictures of that in an upcoming post as well! I hope everyone is having a wonderful summer!
(ps saying a little prayer and sending big get well hugs to my bestie Ginger, she has bronchitis this week :( Feel better soon girlie!)